What to Talk About on a First Date: Do's and Don'ts
I don't know a single person among my friends that felt cool and collected on their first date. This is, in my opinion, one of the most stressful moments in one's life. And there is nothing to be ashamed of, everyone seems to be having a lot of different issues when it comes to the first date, fears, anxieties, low self-esteem, lack of self-confidence, etc. Thus, in today's article, we will try to make it easier for you to go through this important event in one's life. Before we list some things to talk about on a date with a girl, let's first talk about general behavior.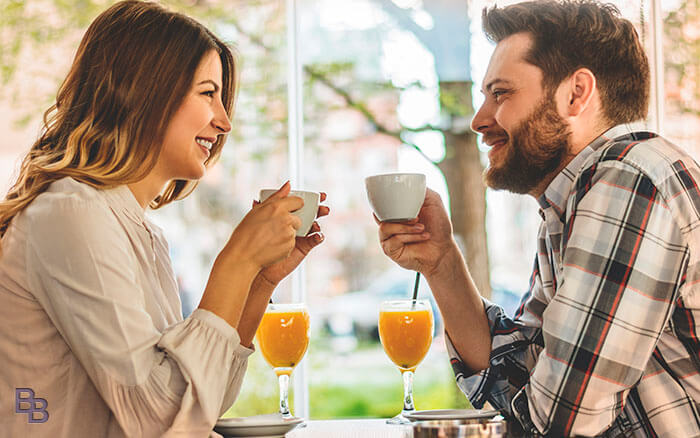 Firstly, how to act on a first date?
The first date is the most stressful one, so, in order to make it easier for yourself to behave during the first date, we have compiled a list of some important things that you should remember on a date.
Before we go on, we have to mention something important. One failure doesn't mean that everything is over and all other women will reject you as well, it is not true, not at all. You can meet women online at any time, any place, and do this in the comfort of your home. There are so many girls looking for dates you can find online, you just have to realize the sheer number of women out there, it will make it a lot easier for you to battle rejection.
Be sincere
Do not hide the truth if a person asks you something. Of course, we all say innocent lies from time to time, however, if you say that you are a doctor, but really just work as a nurse in the hospital, remember that the truth will be revealed in time anyway. Share personal information with a person. However, do not talk too much about yourself. Talk about yourself only if the person really wants to hear more information about you. Tell a person about yourself if they want to hear it. For example, if your companion asks: "What is your favorite genre of movies?", do not limit yourself to the phrase like "Oh, you know, I don't have a specific genre that I prefer." Instead, say, "I really like different genres, from musicals to horror films. Yesterday I watched two great movies ... And which films do you like?"
Don't be nervous
Be a confident person. Confidence makes a person attractive. Do not focus on your shortcomings. Smile and try to make a good impression. To feel more confident on a date, think about what you can do to make it work out in the best way possible. Tell yourself that this will be the best day of your life. Thanks to this, you will have a good time.
Be nice and respectful. Good manners are the key to a successful date, whether it be your first or hundredth meeting. Give your partner all your attention, be extremely tactful and charming. Turn off the phone – it should not distract you from your date! Pay all the attention to the person and be a diligent listener. If a girl doesn't want you to pay for her, then don't. Maybe you can pay in turn, you are going to pay for the first date, she is going to pay for the second one.
Watch the 'listening-talking' balance closely
The art of listening is tantamount to the art of speaking well. Therefore, listen to your interlocutor. Try to hear what your companion wants to convey to you. You should not think about what you will say next. When answering the other person, show that you are listening carefully.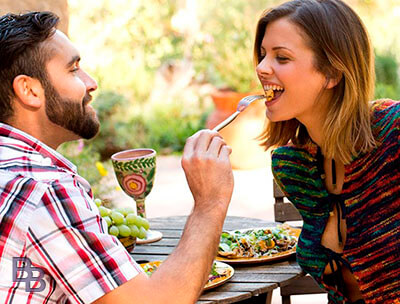 If your companion says that they like gardening, you should not say that you are absolutely not interested in this in response. Ask questions related to what this person is interested in. For example, you might ask: "Really? What do you like to grow? Do you have a large garden?"
You should never exaggerate and show off your successes or talk about something too personal. If you talked about your hobbies, do not forget to ask about your partner's hobbies and listen carefully to what they have to say.
Do not discuss your past relationships and other emotionally charged topics on your first date. Respect the boundaries of the partner. From such conversations, a person may get the impression that you have not let go of the past. It is also not recommended to ask the partner about their past relationship with the opposite sex. On the first date, you don't need to pour out your soul and retell your whole life to a person.
Have fun and be positive
Have a good time. The date should be spent in a pleasant and fun atmosphere. If you enjoy communication, then your companion will certainly be pleased with the time spent with you.
Cheer up on a date. If you have a bad day, then you need to leave it behind and greet the person with enthusiasm and a wide smile. There is no need to complain about your job, about the boss, or about some personal issues. If you can't keep silent, say only a few words about it, but then say that you are now happy to be in their company and forget about all the troubles.
Forget about these topics on a first date
There are some important rules on what topics one should avoid discussing so as not to cause any discomfort on the very first date. Let's list the most controversial topics that should be avoided.
Politics
What not to talk about on a first date? I personally don't have a strong political opinion and I don't want my partner to have one either, but you can never know what to expect on a date with a person you are seeing for the first time. It will be better to discuss these topics online or in text, especially if you've met each other on a dating site.
Marriage and kids
On a first date, you should seek to find some general information about a person, try to figure out whether or not you feel OK in each other's presence, whether or not there is something between you two that can grow into something meaningful down the line. Thus, the topic of plans for the future, whether or not she wants to get married and give birth to children should be avoided, it's too soon to talk about it.
Religion
Religion was and always be a controversial topic for a conversation, no matter for how long you have been dating, some dissonance may occur due to this topic. Thus, if you are still interested in finding out whether or not a girl you want to date is religious, you should not prolong such a discussion, approach this question from the other side.
Her/your exes
No matter how hard you fell in love with a girl, the first date is not the time to talk about personal topics, it is not the time to analyze one's life and shift your communication into a more romantic trajectory. And topics like one's exes and past relationships are not fit of the first date, they should be discussed only when you two feel like this relationship is going towards something stronger and more romantic.
What do you talk about on a first date with a girl?
Let's now talk about topics to talk about with a girl in order to spend some quality time together without going too far or turning your conversation into a meaningless waste of time.
1. Small talk
What to talk about on a first date? Talking about everyday things is useful in any way, as it makes you closer. Remember the events of the past, laugh at them, tell each other about what you did that day, be interested in each other's plans for the weekend or just share interesting or unusual observations with each other.
Talking about everyday activities will help you get closer and get to know each other better. Ask the girl to tell you more about what happened. Your questions should sound so that the girl sees your interest in her life. She should not have the impression that you suspect her of something or do not believe something she says.
2. Talk about yourself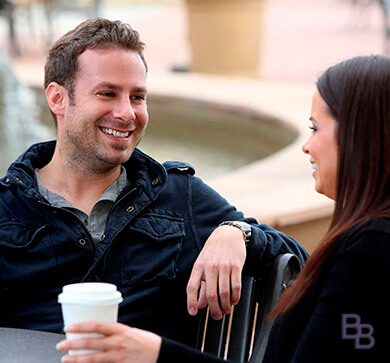 What are some things to talk about on a first date? Everyone will find it useful from time to time to tell your partner a new fact about yourself, especially if you are not used to talking about your feelings and about something personal. Stories about yourself will allow you to gradually reveal yourself to your potential partner, and they may do the same in return. Try to start with the following phrases:
I am a man who ...
I would like people to know that I ...
When I try to talk about personal topics ...
3. Avoid personal topics
What do you talk about on a first date? You should start a conversation on some casual topics that won't pressure your partner. You will be able to conduct deeper conversations as soon as the girl knows you better, and it is better to avoid talking about losses in the family, your first lovers, strange illnesses or the fear of death only after a few dates. If you feel that you have an instant connection with a girl, then you can quickly move from chatter to more important topics, but you should avoid personal topics on the first date, otherwise, she may back down.
Well, if she started a conversation on a personal topic and wants to continue it, then you can support her and see where this leads, but still, be on the lookout. Pay attention to the girl's facial expression and body language. If she backs down or looks upset when you ask her about something simple, then this can be a delicate topic for her.
4. Give her a compliment
After talking for some time, you can give her a small compliment so that she feels that she is valued. Make sincere compliments, don't try to pull something out which you don't believe in. You can compliment her sweater, her new haircut, jewelry, or even a character trait. You should not be too specific ("You have wonderful legs") because she will be uncomfortable. Do not cross borders, choose something neutral and show your concern.
One compliment per conversation will be enough. Do not bombard her with compliments or behave as if you are not sincere in your words.
5. Talk about something casual and fun, make her laugh
What are the best things to talk about on a first date? The best topics for conversation are casual and relaxed topics. Girls like guys who make them laugh. Do not be afraid to show your wit and sense of humor - unless it is too obscene. You do not need to start a conversation with a series of jokes to warm up to attract her attention. Do not overdo it with humor. If you have an unusual or wacky sense of humor, don't go too hard on it.
If you were joking and she is not laughing, show her that you do not take everything too seriously. Say, "Maybe I'll have better luck next time," and that will make her laugh. If she says something funny, don't respond to it by saying, "This is really funny."
Keeping a conversation going: easy tips
So, OK, you've started a conversation and you are doing pretty well, but what if you start losing confidence throughout a conversation and you cannot seem to properly maintain it?
Ask questions and listen carefully
What about questions to ask on a first date? This is the key to make the girl feel special as quickly as possible. You can show your concern by asking questions about her or what she has been doing lately. Questions should not be very personal - this is not necessary - but you must show your interest in her and her life. If she doesn't ask you anything, then you should temporarily give up the questions - perhaps she feels like being interrogated. Here are a few topics for first date questions:
her hobbies and interests;
her favorite music bands, books, and television shows;
her favorite classes at school;
the job of her dreams;
her best friends;
her plans.
Sincerely describe things you like
Do not try to seem like an expert in topics that you really are not good at. Be honest and just share with your interlocutor what interests you in life. Do not try to seem like who you really are not. Of course, you can easily build a conversation if you are witty, funny, and interesting, but do not worry about these high standards. Just be nice and friendly, but stay yourself.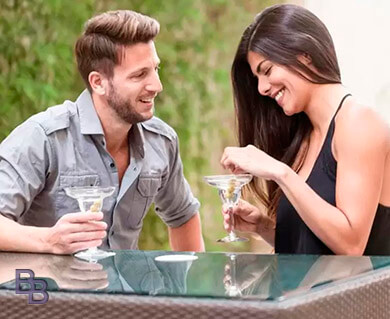 For example, instead of trying to seem like an expert on the Spanish culture, you can simply say: "Oh! I have never been to Spain. And what did you like most about your trip?"
Talk about places you visit on a date
What to talk about with a girl? The most suitable topics for conversation may vary depending on what event you are at. In general, it would be nice to do the following:
Think about what unites you with the interlocutor, which led you both to the place of your date (work, mutual friend, common interests). Stay away from controversial topics that have nothing to do with the place of your date.
Focus on positive things
What is the key to figuring out the right questions to ask on a date? Find common topics to talk about. As soon as you start a conversation, look for common ground to make it easier for you to find topics for conversation. It is not necessary to have common interests, however, if you find them, the conversation will be easier. When you are talking with a girl, try to determine if you have something in common - you may have grown up in the same city, maybe you like the same sport or you have a mutual friend or teacher.
If you talk about something that you have in common, you can open up, enjoy the conversation and switch to new topics. For example, you can talk about how you love football, and then go to the craziest stories that happened to you during matches, and then discuss your favorite places in the city.
Let everything go as it should - do not try to find out if she likes the same thing as you. Try to keep the conversation open, otherwise, it will end if she does not share your interests. For example, instead of saying, "Have you seen Frozen? This is my new favorite movie," better say: "Have you watched anything interesting lately?"
The biggest problem with the first date is your own fears, anxieties, and manifestations of your own issues. Whether you are not that confident in yourself, maybe you are afraid of your own traits of character, it all has a negative impact on your ability to communicate with other people, including the opposite sex. So, if you want to be successful in communication with women, you have to let go of your fears, only you are aware of them, you can present yourself in a very positive manner by silencing your fears, and only then, after a few dates, you can talk about your emotions in more detail.
There are no comments. Your can be the first