Ten perfect places for a date in Moscow
Every city has its own unusual and romantic spots. These places fit perfectly for asking your girlfriend out on a date, for having fun with your friends or just for enjoying life and stunning views. Besides, there is always something interesting to see.
Moscow has the biggest set of places for dating in Russia. It's impossible to name all of them, but there's no need in doing it anyway. Let's mention just a few main spots that will provide you with the most pleasant memories.
So, here is a list of ten interesting and romantic places for a date in Moscow.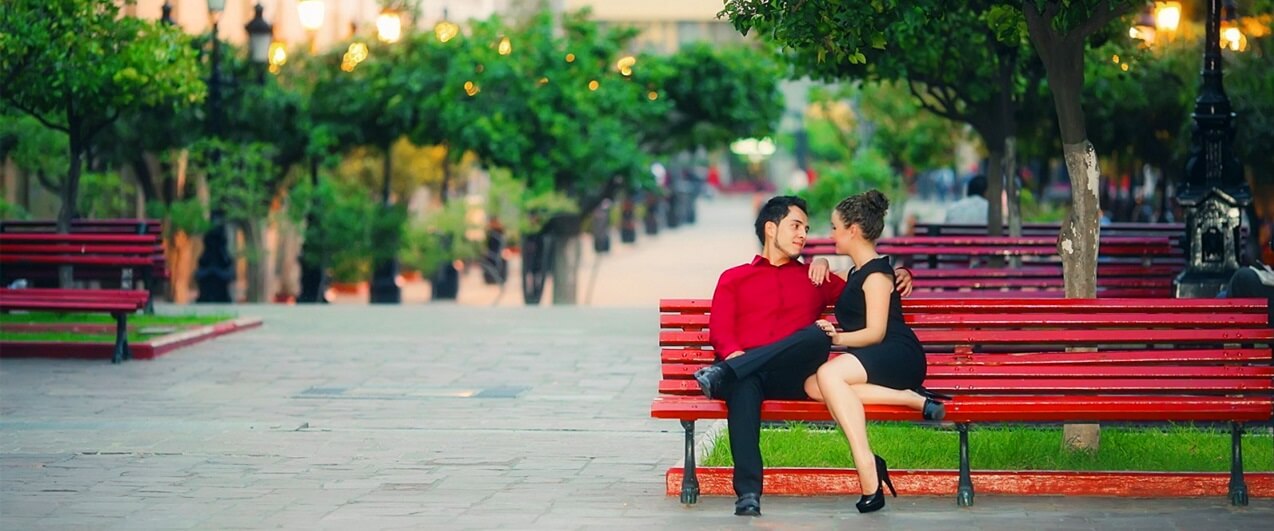 Unusual cinemas
People without imagination take Moscow girls to ordinary movie theaters. There is nothing wrong with the cinema as art, but you still can come up with something better. For example, invite your girlfriend to the cinema that's different from others. Enough with the mainstream and repetitive Hollywood 3D-movies, your choice is the "Illusion" movie theater on Kotelnicheskaya Embankment or 35 millimetrov on Pokrovka Street.
Both theaters specialize in art-house, Russian and foreign film classics, films with subtitles. No popcorn, only a movie, éclairs, and good old cinema. Invite a girl to see a 1940's black-and-white film, or to the Japanese cinema festival.
Interesting museums
If you look for places to go for a date, try museums. Visiting them may not be as boring as it seems at first glance. The choice of unusual museums in Moscow is great: the "Submarine" Museum in Northern Tushino (a real submarine opened for visitors), free metro museum (36 Khamovnicheskiy Val St., the southern lobby of Sportivnaya metro station), Museum of Calligraphy in Sokolniki (Pavilion 7), Bunker-42 Museum in Taganka (a secret Soviet command center), Cosmonautics Museum (VDNKh metro station), the Museum of Soviet slot machines in Malaya Ordynka, retromobile museum, and Center for Contemporary Art "Vinzavod."
Women's field of interests is much broader than glossy magazines claim. A lot of them are interested in space, submarines, avant-garde artists and calligraphy. Just don't invite your girlfriend to the museum of erotic art – Russian women find it boring and vulgar.
Bulgakov House-Museum
Every couple can visit this fine place for free. The apartment itself is a museum located on Bolshaya Sadovaya St, near the Mayakovskaya metro station. It's open on weekdays until 11 pm and on weekends until 1 am (the perfect time for a romantic rendezvous). There are also a cozy café, and a tiny exhibition devoted to Bulgakov (including the black cat Behemoth, which lives here) inside.
If you want more, buy tickets to the Bulgakov Theater or try city tours. For example, there is a five-hour night bus tour around the places in Moscow where some events from the novel The Master and Margarita took place. It's informative and cheap; just relax and embrace your companion while the guide tells urban legends.
Children's entertainment
It sounds unusual, but in our cynical age, many girls want to feel like kids from time to time. The Planetarium, circus, zoo, and the dolphinarium near VDNKh metro station are the perfect places for such pastime. The downside is that you will constantly be surrounded by a lot of people. In addition, the most interesting shows in the zoo and planetarium take place during the morning and afternoon hours, which can be inconvenient. On the other hand, after inviting the girl to look at leopards in the Moscow Zoo, or to count stars in the Planetarium, you'll become much more attractive than other "gentlemen" who take ladies to the most popular Russian dating places, such as clubs or sauna. In addition, you'll prove yourself as a romantic man.
Moscow theaters
After inviting your girlfriend to any theater, you will automatically become the most intellectual man she had ever met. Just do not choose the popular theater venues such as Bolshoi Theatre, Chekhov Moscow Art Theater or Moscow Satire Theatre, or the ticky-tacky private theaters. Leave them for your parents. There are a huge number of beautiful chamber theaters in Moscow: Open Stage/Otkritaya Scena Theater on Povarskaya St., such theaters as Praktika and School of Dramatic Art on Sretenka St.
Classic or experimental performance directed by modern young professionals is exactly what is needed for two loved ones, who decided to devote a few hours to art. And the ticket prices there are low. Just do not forget to learn a few professional terms, such as "Stanislavsky System" if you want to seem intellectual.
Leisure
Don't want to spend time in the cinema or the theater together with your new girlfriend? Moscow has a huge variety of outdoor activities. You can shoot a crossbow, pneumatic or real weapons in one of Moscow's shooting clubs; go bowling (almost every second entertainment center has a bowling club). These are the best places to take girls from Russia to. Also do not forget about karting (in winter months invite your lady to an indoor karting club, near Savelovskaya metro station or in Sokolniki Park). And last but not least, try billiards (there are many bars with pool tables in Moscow). Girls in Moscow enjoy such pastime.
Sports activities
Regardless of the season, you can always go skiing or snowboarding in the Snezh.Kom entertainment complex in Krasnogorsk. Here you can also rent any equipment and find yourself an instructor. Besides, the complex has the world's largest artificial snowboard hill. If you'd like to teach your lady how to rollerblade, visit Rollholl (Tulskaya metro station) and Adrenalin Park (Babushkinskaya metro station) roller-skating rinks. But for the most romantic winter atmosphere go to a skating rink. Glide across the ice surrounded by hundreds of lights, holding your hands, in Gorky Park or at the skating rink on the Red Square.
Viewpoints
Moscow's viewing platforms are also in the list of good places for a date. Fortunately, there's more and more of them every year. Be sure to choose the official observation deck which has a quite complicated pass system. The ideal place for such purpose is Ostankino television tower and the viewpoint in Moscow City. In both cases, you must order the tickets in advance.
Fly in aero tube
If you're looking for places for a date, the aero tube is the best choice. Such pastime is not cheap, though, so plan your budget to have enough money for a cup of coffee and cake for your lady. And do not forget - aero tube comes first, then the cakes! The free fall attraction Letarium is waiting for you on Krylatskaya St.
Rock concert
Moscow is a city of music, and every night almost each bar or club in the city organizes a concert. Some are performed by popular musicians and some by young, unknown bands. And because of their youth and enthusiasm, these young and unknown bands may perform even better than the famous artists. And the admission to the concerts of such bands often free or very cheap.
Such clubs as the China-Town, Zavtra, Grand Bourbon Street or FAQ café regularly invites young and talented bands; sometimes they arrange free festivals. The playful atmosphere and love songs - what else is needed for the first date with the girl? The only thing that you should clarify is the band's music genre. Besides, some Moscow women don't like rock music.
There are no comments. Your can be the first