7 Signs that a Russian Woman Really Loves You
Russian culture always provoked westerners' curiosity. Everything about this nation seems bizarre, yet their women inevitably enchant guys from around the world; whether it's due to their mysteriousness, or their beauty, or their girlishness. As these ladies are so perplexing, it's often hard to understand what their deeds and words mean. Well, this is also part of their character.
In the West, it is fully acceptable for a girl to make the first moves first and ask out a guy she likes. However, it is absolutely strange for a Russian girl, who would do anything to hide her deep feelings. Instead of expressing her affection in a direct way, she prefers dropping subtle hints to men. That's why you should keep the tabs on what your Russian friend does and says to possibly detect if she is into you.
Understanding a woman was never an easy job. A guy should possess certain knowledge about female psychology as well as have some experience in dating. Strictly speaking, both Russian and Western ladies use similar tools to show they like a man. So we listed the most obvious signs that a Russian woman adores you below.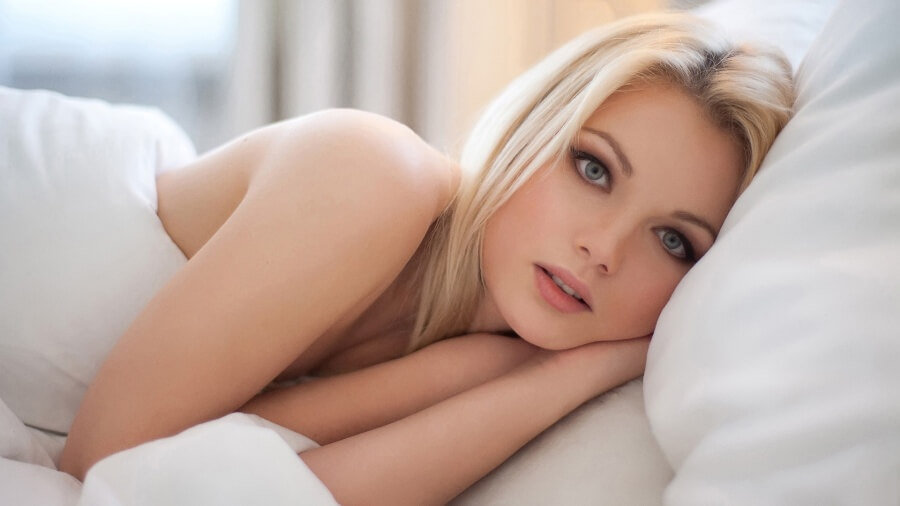 1. She is always ready to communicate
Whether you communicate via the Internet or live, a Russian girl who's into you will always be glad to spend more time together. Since these women are truly many-sided and intelligent, you won't lack topics to discuss. Besides, they are sincere. So if you notice your pen pal asks you more questions and reacts to what you tell her, be sure she is keen on your life. Likewise, an amount of information she reveals about herself increases correspondingly to the level of her affection.
2. She appreciates your sense of humour
Indeed fun guys have more opportunities to impress a girl of their dream. But even if your jokes are somewhat hilarious, a Russian girl, who's really attracted to you, will laugh at them. Just because she wants you to feel comfortable around her. You see, Russian women are extremely supportive and they don't want to bring down their potential or actual partners. Of course, it would be great if you learn how to cheer her up in the right way too.
3. She tries to be around you anytime
When two people like one another, they tend to shorten the distance between them. Surely it may not be that simple if you communicate via online dating services but if you arrive in Russia, your prospective bride will constantly be with you. She will likely spend her every free minute on strolls and talks. Besides, when a Russian lady is in love with some man, she attempts to move closer to him in public transport and other crowded places. So keep her moves on your radar.
4. She gladly accepts your wooing
In general, Russian girls are happy to see chivalrous deeds from their potential long-term partners. But if such a girl has special feelings towards you, she will display satisfaction and joy even more. You may even get surprised with her somewhat exaggerated reactions on your compliments and polite gestures.
5. Her gaze changes when she looks at you
"Eyes are the mirror of the soul" – this proverb is apparently known throughout the world and in Russia, it belongs to the most popular sayings. As you might know, Russians are quite straightforward (yes, even their women) so if you stare into their eyes, you will see what they think about you. Most commonly, a Russian girl who likes you will maintain an eye contact along with lowering her eyes when you look back at her.
6. She develops a specific body language
Everyone's got his unique body language which changes on occasion. Obviously, when we like someone, we subconsciously (or consciously) do certain moves and gestures to demonstrate this. There are some common signs a Russian girl is attached to you. For instance, she reflects your body movements and positions, or "accidently" caresses your palm, or touches your leg by hers.
7. She attempts to be even more attractive
Even though Russian women are truly gifted by nature, they do their best to "improve" this heritage. Ladies in the West prefer dressing as simply as possible and unusually wear no makeup. But Russian ladies are obviously different: they can spend 2-3 hours by the mirror prior to going out with men they are into. Thus, if you see your friend started dressing even more fabulous than before, bought new clutch and perfume, or even radically changed her hairstyle, keep this on your radar. There must be a good reason for all this!
Jonathan
Well, what about some ways to check whether YOU like the girl?? Here are my ultimate signs that I definitely like a girl more than a friend: -often or even constantly thinking about her, sometimes to the detriment of work; -looking for a reason to text, call, touch or meet; -I'm ready to change my plans to meet her, and in general, I'm ready for a lot; -being jealous when seeing her in contact, even verbally, with others.
01.05.2020 08:56
Luke
A mysterious woman's soul, which wasn't completely solved yet ... And to understand it is one of the main tasks of a pickup truck. Probably) But if the guy thinks that the girl is trying to draw his attention to herself, most likely, she has already gotten up to seduce him. And then it all depends on what level you communicate. If just "Hi - Hi, how are you?", nothing will come out of it, IMHO.
01.05.2020 08:57
Anna
I think the sign number 7 is not that important. Russian girls take care of themselves all of the time, the do not try to look good for someone. Here you should pay more attention to the non-verbal signs or just the way she acts while around you. Because her appearance, clothes, makeup are useless when trying to guess if she likes you or just wants to look good.
01.05.2020 08:57