Beginner's Guide to Swinging Couples: How and Why
They prefer passionate collective orgies to a boring marital bed, and they choose to exchange the partners rather than to cheat on them. For some people, this is a lifestyle, a way to a new degree of freedom allowing for mutual understanding and genuine sincerity in the relationship between a man and a woman. For others, it is just entertainment, a pill against boredom and a cure for the daily life of a married couple. These people are swingers.
This happened in the USA in the distant 1957. That year, one of the popular men's magazines published a quite provocative article on the exchange of wives. It was a real sensation. A shock. It had an effect of the exploded bomb. The press was full of headlines like, "The demoralization of society", "The looming threat to the institution of a monogamous family", "The exchange of wives: the first steps towards personal devastation."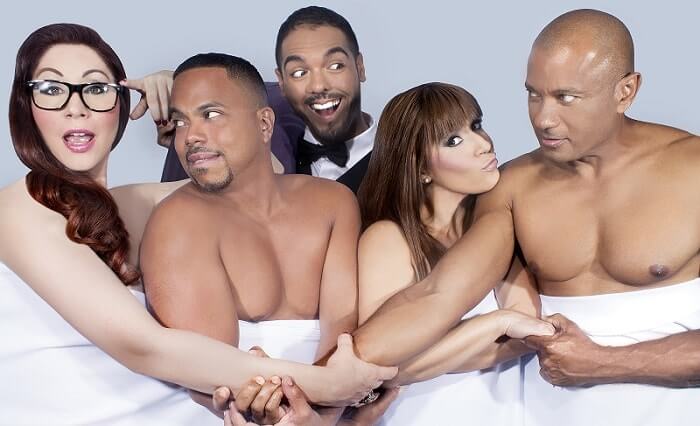 In response to the discouragement and outrage of the journalists, the editor-in-chief of the magazine smiled mysteriously and rubbed his hands together in anticipation of the growing popularity of that publication. The press was grumbling and criticizing, the society was indignant, and the magazine continued to publish even more sensational materials: about sex clubs whose members got carnal with one another, about the readers of the magazine who publicly told about their own experiences in the exchange of partners, etc.
The magazine flourished. Soon, other magazines with blunt content picked up this "explosive" topic and, within a few months, it was easy to find ads published by "couples" or "singles" who were looking for partners for group sexual practice on the pages of many publications.
Swinging couples' lifestyle: what's it all about?
What is a swinger? Swingers are just ordinary people who live different lives, belong to different races and social classes from office workers who are atheists to rich people who are devout Christians. There isn't any link between them, with the exception of sexual preferences and the desire for this kind of "open relations."
Although most swingers are heterosexual, there are still homosexual and bisexual swinger couples. Most of the participants are between 30 to 50 years old (although, nowadays, more and more young people start taking an interest in it), and many of them just want to bring something new to their sexual life.
What types of relations does a swinger couple have?
Swingers are combined in different ways which, mainly, differ in the level of contact between the couples. These types of "combination" can be soft, closed and open. Of course, there are no clearly defined boundaries between these types, couples can unite them and coordinate them, basing on their wishes and swinging lifestyle.
Soft swinging. It is a great way for you and your partner to get acquainted with this kind of swingers lifestyles. It suggests having sex with some couples in the same place without touching anyone directly, except your own partner. In fact, this means preliminary caresses with others and sexual intercourse with your main partner in the same room with other couples. Sex with penetration is available only for your partner. Sometimes, oral sex is possible during foreplay, but this is usually discussed and agreed with all the others. If everything goes well, the couple can move on and experience other types of swinging.
Closed swinging. It is suitable for more experienced swingers. You have sex with one or several partners in a private room (your main partner isn't with you), it is sex with penetration. This kind of swinging allows each partner to have free sex with others while keeping the original relationship deeply personal. Closed swinging is most often used at private parties and in clubs where swingers having sex are the only participants.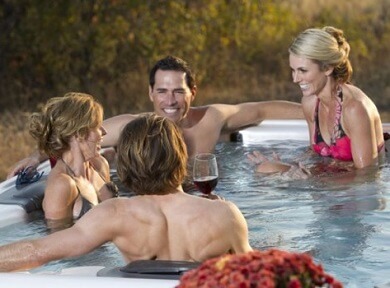 Open swinging. This type of swinging involves an unlimited exchange of partners and an open switch from one partner to another, often, in the same bed. Three, four or more people can take part. This type is usually chosen by those couples who want to keep contact with each other all the time. Often, this type of swinging does not have any rules. In this case, it is especially important to clearly set the limits of what is permitted and say a firm, "No!" For this reason, open swinging is only suitable for experienced swingers since breaking the agreement between the main partners (even unintended) can cause jealousy and other unpleasant feelings.
Why do people do that?
People decide to do that for many reasons. For some people, it's almost a philosophy of human relationships, opening up new horizons for sensuality and sexual contacts. For some others, it is just fun, a desire to experience something new and unusual. These people are trying to get new knowledge about sex, technique, and methods of sexual play, those people want to break the ice, the frigidity of the wife or the sexual coldness of the husband. It is not difficult to find the reasons.
Most people love sex and its varieties. However, what does encourage some people to become swingers? There is a list of some potential causes.
The usual desire to have fun with the like-minded people. Swingers, as a rule, are very open people who do not condemn others, therefore, they can be wonderful friends. A good swinger club is, first of all, a good public club, of course, with additional advantages.
Voyeuristic and exhibitionistic needs are serious motives to become a swinger. Usually, people get a lot of fun watching their partners (or others), or being the object of watching, having sex with many partners.
The desire to restore or improve existing sexual relations. Partners who seek diversity in their sexual lives are often the first in line who are interested in swinging.
People feel the necessity to watch the "adventures" of one's partner while controlling and taking part in this. Swinging can be used as a way to maintain a relationship in which one or both partners are going to have a love affair. Is there satisfaction with a marriage and life in general?
How happy are swingers' marriages? According to the survey, swingers often consider themselves "completely happy" in a marriage, compared to ordinary people, in percentage terms. 63% of people believe that the swinger lifestyle has improved their relationship, 36% believe that the relationship has not changed, and about 1% believe that the relationship has worsened.
How to meet other swingers?
Swinger parties
When people talk about the possible places to meet swinging couples, they imagine, first of all, the swinger parties like in the movie "Eyes Wide Shut." In this movie, Tom Cruise's character gets into a swinger party that takes place in a chic mansion with an expensive entourage. In fact, these events look like almost the same in real life. Nonetheless, their essence is not limited to one-night stands. People, first of all, communicate freely, having eliminated any complexes, and get sexual pleasures when they want it. At the same time, the principle that works here is, "Treat others the way you want them to treat you." As a rule, the whole hotel complex is rented for the party of swinger couples. The amount of rent and the common bill from the restaurant is shared among the participants. This is not a cheap pleasure.
Recommendations
However, parties are not the only way that helps couples meet for swinging. Much more often, their meetings take place on mutual recommendations, oral transmission of addresses and phone numbers of their previous swinging partners. This should be borne in mind if, say, you understand after the first experiments that swinging is not your erotic tale. Therefore, even if you have long ago stopped meeting with local swingers, be prepared for the fact that you can still get some calls with proposals to "pass away the time with another couple."
Websites
Despite the fact that there are no statistics on the number of swingers, it is significant that absolutely on all dating sites you can find a section "Couples seeking for couples." In fact, it is an increasingly popular safe way for swinging couples meet for sex.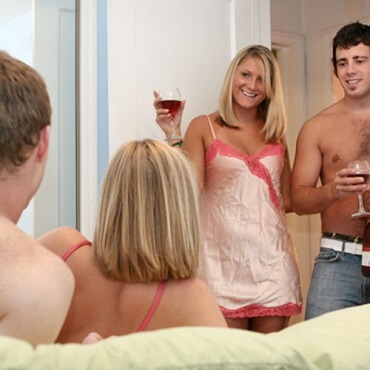 Even if you find several best swinger sites and decide to create a profile there, you should understand that just a registration on the site for swinging couples doesn't guarantee you a quick result that will meet your expectations.
There are some tips on how to behave on the websites to meet other couples for swinging.
1. Before you send the first message, read their profile carefully. Usually, the profile clearly indicates whom and for what purposes the couple is looking for. If you do not fit, you shouldn't even write, it's useless. Most likely, you will be ignored, and that's it. If you think that you fit, then it's better to tell at once who you are and what you are looking for. Swingers get many messages and almost all messages begin with, "Hi. How are you doing?" It's annoying. Therefore, write more specifically.
2. Do not offer immediately to meet, to have sex and so on. Swingers have enough sex without you. Make a couple be interested in you. Be nice, polite, sociable. There should be the liking, and liking arises on the basis of the similarity of views, hobbies. If the couple likes you, then you will be offered to meet, exchange photos or phones.
3. Do not ask immediately about some personal things. Such things are not discussed with strangers. It is enough to ask what the couple wants to get from the meeting to understand if you have similar interests. Details will be discussed and clarified later. Try not to ask questions on intimate topics at all.
4. Be ready to be asked to send photos. If you are a couple, then make a joint photo, not intimate. You can take a few pictures in your underwear so that it will be possible to evaluate the figures. Do not share sex pictures, and do not ask for such photos.
5. Be ready to wait. Usually, the first meeting takes place in a neutral territory, in a cafe, on the beach, in a park. If you decide to meet, then most likely, you will have sex later. In person, a lot depends on whether there is a connection between you or not.
Drawbacks of Swinging Couple's Life Style
Now that you've read the beginner's guide to swinging couples, you already know why couples want to spice up their sex life in such way and how to do it. But, what actually happens with a couple once they go for it? One of the popular opinions is: after an unforgettable swinging experience, the passion that was lost can return. But after a while, one of the partners may want to try sexual contact with a new partner again. Once it happens, nothing will be the same, so pay attention to the following drawbacks before trying swinging for yourself.
One of the partners always wants more
During swinging parties, the preferences of one of the partners may change, which will lead a change in the rules. These changes can negatively affect the relationship. That's why it's important to discuss every detail at the very beginning and be completely honest about what you accept and what you're not going to tolerate. Discuss each other's desires and decide what to do if one of you changes your mind. You can't predict what will happen, but an honest conversation will keep you from quarrels or a breakup.
Swinging couples have to face jealousy
Usually, jealousy is a feeling only young swinging couples experience. "Newbies" only begin exploring each other's feelings and different sensations. For inexperienced couples, seeing their loved ones having sex with someone else is a novelty, so feelings may get hurt. Therefore, experienced swingers prefer to avoid parties with newcomers, fearing that those may become jealous during the exchange of partners, and this will spoil all the fun.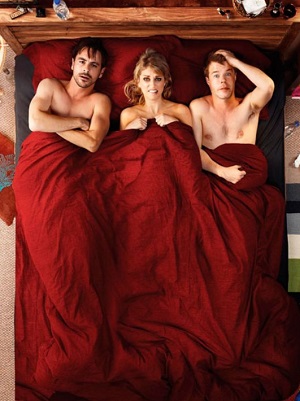 But rich swinging experience doesn't guarantee that the couple won't suddenly become jealous. The guy may get the feeling that his girlfriend pays a bit more attention to her new lover than she should, or the girl may not like her boyfriend trying a new position with his partner. Or one of the partners does something that was prohibited. This may not only ruin a married couples' swinging experience but also cause jealousy and destroy the relationship eventually.
Swingers have to keep their lifestyle a secret
Although some find keeping their swinging life a secret exciting, most couples actually suffer from being unable to be open about their personal life due to modern views on this type of sexual experience. There are a lot of reasons why people have to remain silent or lie, but usually, everything boils down to one problem: society still compares swinging to cheating.
If we believe that such thing as swinging will never work for our relationship, we will judge others, who actually benefit from having sex with different partners. So before you try to spice up your intimate life in such a way, ask yourself if you're ready to stay quiet about it.
Health risks
One of the biggest drawbacks in the life of real swinging couples is the potential risk of getting sexually transmitted diseases and coming across unwanted pregnancy. Therefore, you should never forget about protection. Secure yourself, or you'll have more trouble than just hurt feelings. Solving this issue also implies choosing a place where everyone will feel safe and comfortable (for example, at your home or hotel). These details must be discussed with all participants before the party starts.
After a while, it may seem that you can forget about all your agreements with your partner and go beyond the boundaries, but it depends solely on the two of you. Never allow yourself (or your partner) to be drawn into something you don't want to participate in. Also, never put pressure on others yourself. Follow these two rules if you want to feel some real couples' swinging experience.
If you want it, you should try it
Swinging is a search for a new form of a family union in an attempt to remove the contradiction between the polygamous nature of man and the requirement for the monogamy in the family. You can hardly hope for love and making love with swinger couples. Even good sex is not always qualitative. Nevertheless, this option is better than sex on the side with all the problems of a love triangle. No wonder the theme of love triangles is shown in fiction and art. It was, it is, and it will be if people have double morality. Swinger couples accept each other's equality and start talking honestly with each other. That's why the educational and cultural level of swingers is above average.
There are no comments. Your can be the first